Harwell Running Club
What's new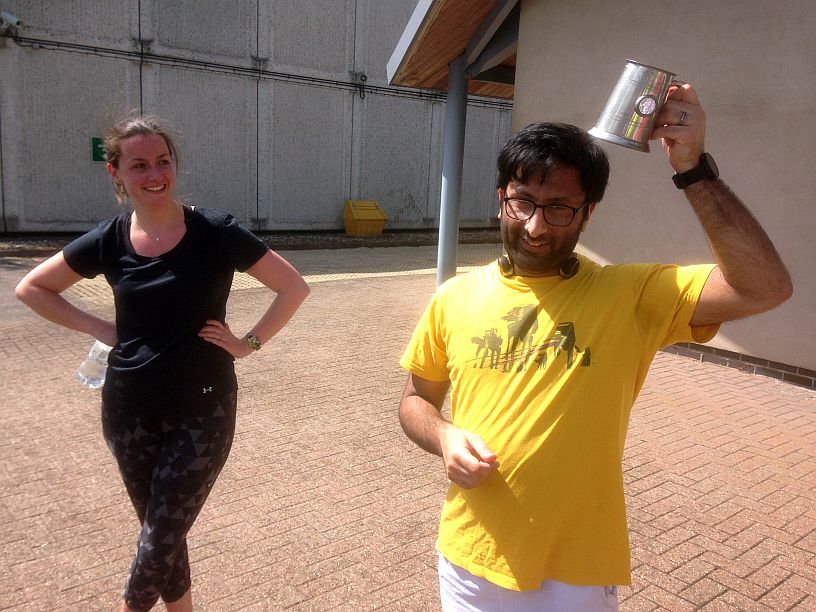 What we do
Based at the Harwell / Chilton campus in Oxfordshire, Harwell Running Club is a group of people who run at lunchtime and prefer to have some company rather than none. If you can run a mile in somewhere between five and ten minutes, there will be someone glad to train at your pace.
The pavilion has good changing and showering facilities for both men and women. There's a noticeboard in the entrance hall, on which we've posted some useful maps and some Fun Run timing sheets.
Users of the Harwell facilities (changing rooms, showers and track) must be members of the Harwell Laboratories Recreational Association. Fees and membership forms are available on the HLRA website. As at 2022, annual membership was just £48 (yes, per year - not per month!) and Summer membership (April - August inclusive) £20.
Fun Run
The club organises weekly handicap Fun Runs on Tuesdays. Start times are set based on previous performances so that, in theory, everyone should finish together at 13.00. The standard course is 7 km, but on the first Tuesday of each month we run a shorter course of 5 km. There is also a 'mini' course of 3 km, for anyone who prefers a shorter run. All courses have a mixture of grass, tracks and tarmac. There is even a trophy for the first person home each week on the designated course. Turn up at the start / finish (outside Public Health England) at about 12.20 if you would like to take part, or check out the map of the route. There are Strava segments set up for the standard, short and mini courses.
results of latest Fun Run | Fun Run all-time records | results archive
Fun Run Timing Rota, Sep 2019 - Mar 2020 | timing sheet (Excel) | Roll of Honour (points winners)
Track
In the summer (May - August), there are Tuesday races on the grass track that we mark out on the rugby field. This is a change in 2023 from the previous practice of holding track races on Thursdays. Each track session offers a both a shorter race (100 - 400m) and a longer one (800 - 3000m). We also try various other events such as standing long jump and throwing a baseball. Again, start times for the long races are handicapped, this time based on age and gender. First race starts at 12.30.

The races are free, but as the Harwell Campus keeps the track marked, competitors are expected to have joined Harwell Laboratories Recreational Association. Members may then play in the football, rounders or cricket competitions, and use the other HLRA facilities such as the pavilion. Summer membership (April - August) costs £20; annual membership is just £48.

track schedule and results | track results archive | all-time track records | track marking

| Roll of Honour (points winners)
Other
The club enters teams for occasional local races, particularly the Teddy Hall Relays in Oxford each March. There are also other sporadic club activities, like discussing points allocation schemes for the season-long Fun Run and track competitions, and organising charity Fun Runs.
Club Documents
The documents page has the club's annual accounts going back to its formation in 1986.
How to join the club
The annual fee is £1 and the Treasurer is Roger Thetford, Jacobs, HQ Building, Thomson Avenue, Harwell Campus, Didcot OX11 0GD. We take cash (at the Fun Run or track races), but bank transfer is easier: contact Roger for bank transfer details.
Club members in action. Contributions welcome!
Sources of Wisdom
One of the most useful things that a club can do is to share experience among its members. Someone's probably had your injury or niggle before, and from bitter experience can advise you on how to treat it. With this in mind, we will gradually accumulate pages that answer some frequently-asked questions:
Injuries | Good physiotherapists / masseurs? | Good running shops?
As testified by the photos of us competing, various of our members are also members of:
Other useful links
How to find out more
Contact one of the following:
| | | |
| --- | --- | --- |
| Secretary | Peter Jewell | Nuvia |
| Treasurer | Roger Thetford | Jacobs, HQ Building, Thomson Avenue, Harwell Campus |